I've been trying to think of the best way to catch up on the backlog of projects I haven't posted about here (or in some cases, anywhere) and have landed on the idea of a "Flashback FO."
I knit these socks for the September 2018 Sock Knitters Anonymous challenge, with the theme of Fandom. As Game of Thrones had not yet started its 8th season, I was all excited about making some Red Witch energy socks to wear while watching the final episodes.
Pattern: Melisandre by Kimberly Pieper (Purrlescent), a pattern available for free on Ravelry. (Project page)
Size: Women's size 9.5 (US)
Yarn: Knit Picks Gloss, fingering weight, 70% Merino wool / 30% silk in Burgundy
Needles: Size 1 (2.25 mm) DPNs
Modifications: None
Started: September 14, 2018
Finished: October 25, 2018
I was drawn to these socks because the pattern is toe-up, which gave me confidence that I could manage the chart and the amount of yarn I had without worrying. The pattern was really clear and well-written, so it was a good way to get back into more complicated sock-knitting after several years of stockinette-only toe-up socks. I was nervous, even with trying them on, that they would end up too tight at the tops of the legs / beginning of my calves, so I went against my instinct to add an extra pattern repeat and kept the leg length as written.
I think if I had it to do again, I would probably go ahead and lengthen them more and figure out calf-shaping if needed, especially because the pattern is so impactful and lovely in this yarn.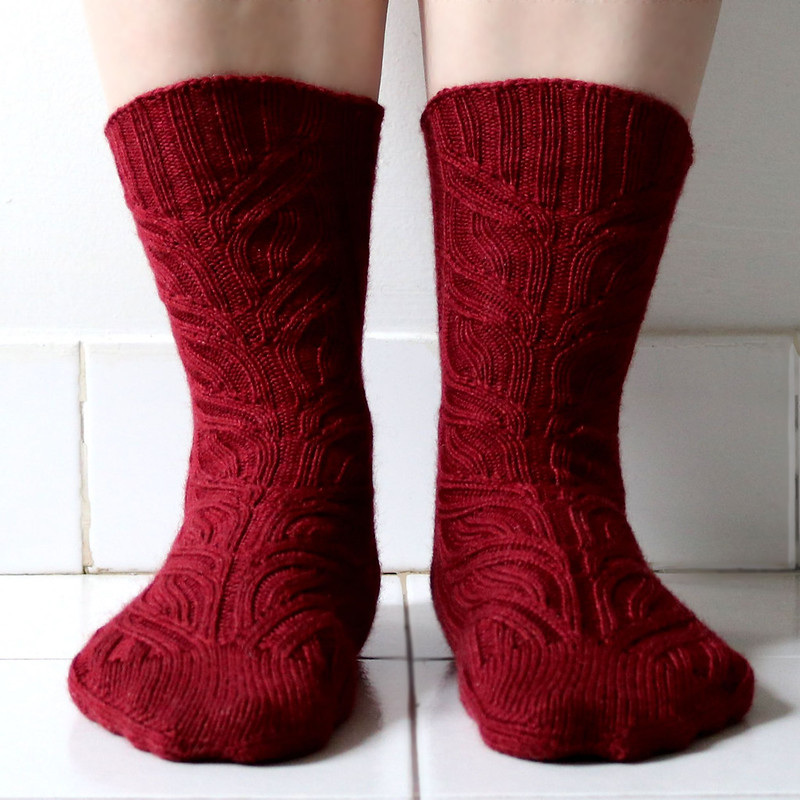 These socks kicked off a series of Game of Thrones-themed socks, all worked in Gloss yarn. I find Gloss slightly thicker than other sock yarns, but also slightly less elastic, so it makes delightfully squishy, decadent, but not always super-stretchy socks.
I love the subtle sheen the silk gives the yarn (living up to the Gloss name) and the cozy, soft warmth of Merino wool. These two skeins of Gloss were among the first yarn purchases I ever made, way back in 2006, and I'm glad I saved them for the perfect project to make the most of the rich autumnal color and decadent qualities of Gloss.
These socks also had one of the first toe-up heel flaps and gussets I'd ever knit, which was a great learning experience, even if it took me several tries to get the first one right (the secret was to… follow the pattern). I love the tidy little gussets and the way the patterning flows neatly from the heel flap into the leg. I was also pleasantly surprised by how comfortably they fit across the instep, as I had previously sworn by the fit of short-row heels only.
Overall, this was an excellent pattern, and I love it in this deep burgundy-red color. Highly recommended, and I think Melisandre would approve.
Related Projects:
– Eddard Socks
– Lyanna Socks